Yale School of Art
1156 Chapel Street,
POB
208339
New Haven, Connecticut, 06520-8339
(203) 432-2600
DIRECTOR

,
ACADEMIC
AFFAIRS
PAT RETIRED ON JULY 31, 2017 AFTER ALMOST 40 YEARS AT YALE!
Last edited by: Patricia DeChiara
Edit access: Sysop
Pat is responsible for: Admissions, Registration, Student Affairs, Student Counseling, Class schedules, Course offerings, Commencement, Awards, School Wiki, School Bulletin and whatever else comes to mind.
Announcement by: Patricia DeChiara
Edit access: Sysop
PATRICIA ANN DECHIARA, DIRECTOR OF ACADEMIC AFFAIRS
Patricia was born and raised in Morristown, New Jersey. She received a B.A. in psychology from Douglass College/Rutgers University and from there determined that academia was where she wanted to be. After college she took a position as Assistant to the Registrar at Morris County Community College. She then worked a couple of years at Cornell University, finally settling in Connecticut. Her first position at Yale was in the fledgling Clinical Methodology Unit at the School of Medicine. She moved from there to work as Student Information Coordinator for the University which was a liaison position between all the school registrars and the student database. Wanting to work more with students and knowing all the registrars helped when the Registrar of the School of Art retired and Pat was hired into that position. With tuition assistance from Yale, she later earned an M.S. in Counseling from Southern Connecticut State University. Responsibilities over the years increased and Pat was promoted to Director of Academic Affairs at the School of Art. This position encompasses all Registrar and Student Affairs responsibilities. Pat is a past board member of the Guilford Center for Children and currently serves as co-chair of the grants committee for the Guilford Fund for Education as well as co-advisor to the Youth Advisory Group of the Guilford Foundation. Pat lives in Guilford in a house on the West River built by her husband Jim Goodridge (a local builder/developer). Their daughter Anna just graduated with a degree in mechanical engineering from Johns Hopkins University. Pat enjoys gardening and likes to cook what she grows.
Last edited by: Patricia DeChiara
Edit access: Sysop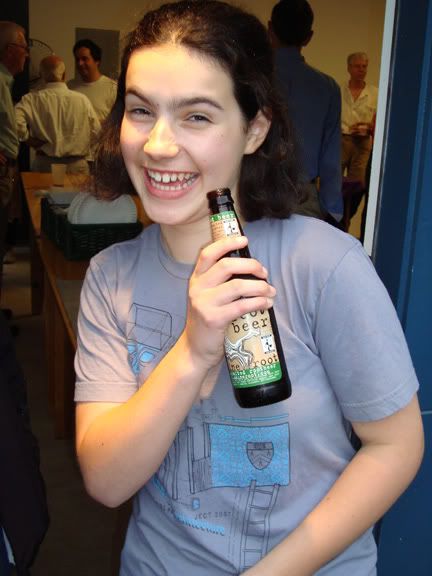 This is Pat's daughter Anna in younger days at Jessica Stockholder's anniversary party.